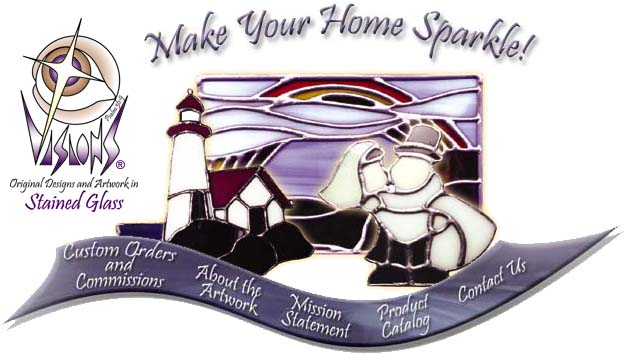 Give your home a decorative, personalized touch.
Kristen J. Eckstein, a degreed professional Fine Artist, is excited to present you with an outstanding piece of stained glass artwork just for you!

Hilliard, OH 43026
(614) 561-8563

visionsglass@yahoo.com


Would you like to see what's new with Kristen? Visit her weblog HERE!

All stained glass pieces appearing on this site are designed and created by Kristen J. Eckstein and cannot be found in any pattern books. All designs and images are © 2002 by Kristen Eckstein and may only be copied with permission. Thank you.
Visions® is a registered trademark and the Visions® logo is © 2002 by Kristen J. Eckstein

This site created and maintained by Gom Publishing, LLC. This site is © 2003 by Visions® Stained Glass.